Main content starts here, tab to start navigating
The Truth
While Henry Evans Avent is a true relative who was in fact known for some great food – Slim Pickens is purely fictional and a.k.a (also known as) – The Sports Page; Knightdale's Original Sports Bar and Grill. Click the logo below to be directed to the website for the Page!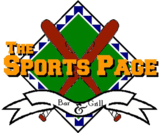 This delivery only concept is our way of bringing the best smoked meats from all around the Carolinas to our local area.
The SP Smokehouse menu is available through Chow Now, Grubhub and our website. We are committed to bringing you the best 'smokehouse' recipes available.